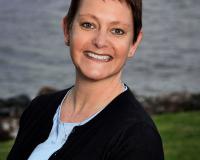 Whether you are buying or selling, Brandi understands the process can often be challenging and complicated. She focuses on the client and client experience above all else! Brandi takes the pressure off her clients so they can make clear and concise decisions throughout the process. Ultimately, a "successful sale" is her main goal and she utilizes her expertise to make that happen for her clients. Brandi's clients receive the utmost care and accurate knowledge that's above and beyond her competitors. Only the best real estate minds can deliver this consistently.

When selling your property, Brandi uses system-based models alongside technology, to make certain your property reaches qualified buyers. Brandi's extensive agent databases and client database, ensure that she finds the right buyer for your property. Brandi has taken the traditional role of real estate agents and turned it around, by focusing on creative techniques to market your property and develop negotiating strategies to make your sale or purchase a success.

Brandi takes a personal interest in each of her clients and provides customized, responsive service that's uniquely tailored to each client's unique wants and needs. Brandi's goal is not just to meet client expectations, but to exceed them. It is her goal to not only locate the property that fits her client's needs and desires, negotiate the absolute best terms possible, but for each client to be confident in their decisions with every question answered.

In addition to being a licensed Realtor, Brandi is also a certified mediator which encompasses transformative and problem-solving skills. Brandi uses this skill to more effectively communicate with her clients and it helps the parties by opening lines of communication in order to facilitate a mutually beneficial negotiation. Brandi uses these combined skills to assist her clients in her area of expertise which is divorce real estate.

In 2016 and 2017, Brandi was honored to be nominated and receive the Five Star Professional Award where she was featured in the June Issue of Texas Monthly. This award is given to a select group of professionals who excel in client satisfaction. Less than 1 percent of professionals in the Houston area receive this award. Brandi would like to thank you her clients for making her a Five Star Professional!
Send Brandi a Message